I like indie makeup brands, and my favorite is/was Aromaleigh. Unfortunately it went out of business recently but I wisely capitalized on the going out of business clearance. The owner was selling grab bags of eyeshadow in ziplocks for $16 and I swiped one up immediately. I kind of regret not buying more, I actually prefer this brand to my MAC and Estee Lauder eyeshadows. One day I'll press them because it's annoying to use sifters and eyeshadow jars. Anyway, the other night I finally transferred the eyshadows from their baggies to eyeshadow jars I got off of ebay. 
All of them lined up….it looked neater last night  but then again, it was 2AM…..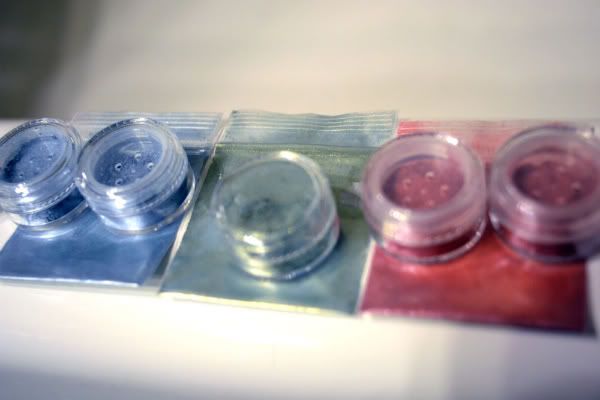 This is a long post so I'll put it under a cut. Video and swatches after the jump.
This color is probably tied with Arabesque for my favorite color she sent. (I didn't get to choose colors, it was a random grab bag. I just lucked out, perhaps because I was the tenth to purchase!) It's just so unusual, isn't it? I've never really seem such a rich gold. I'm a bit scared to use it though.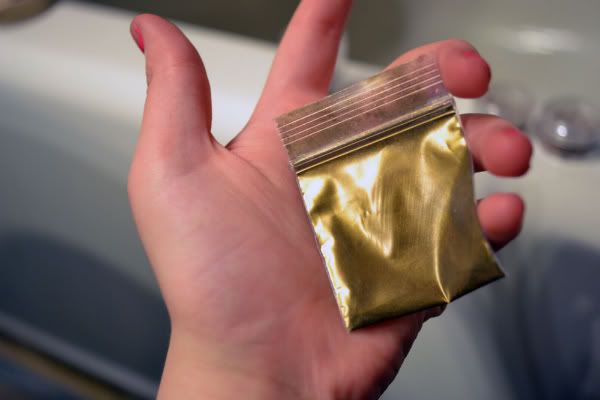 I felt stupid taking a picture of a line of whites… but they aren't all the same. Next to the peach-pink-coral color there is a yellow-toned white and then the rest are multiples of an intensely glittering white I renamed Edward Cullen's Balls. Because I'm mature. 
Here are swatches of each color in natural sunlight. 
(Because I'm a dumbass, I had all the names and a description of each in another draft of this but I closed it without saving it and now I'm not at home with these shadows so I can't provide the names to the numbers. I'm dumb. This will be edited. Sorry! However, the names and jars are in the video. 
And here is a quick video of each color that I took the night of the photographs, just going over how they reflect in the camera and unnatural lighting and my favorites. 
:)